Welcome to my challenge page and my first post. I wanted to start with something fun and simple for my first post. 
Most of you know, I have been talking about our family going on a zero waste journey. This means, Zero waste in all aspects of my life including art making. When I first became a mom, I had to adjust, I could not always make art and when I could I was concerned with a promise I had made to my child to become a more environmentally friendly person. This is where it partially began! I started refusing toxic paints. I also started to look at my food scraps as a way to include them in my art or as a source for making materials. It only made sense, since I was making all our food and spending more time in the kitchen.  I started a different kind of approach,  kitchen art! I started to print with them, use them to make dyes, before discarding them. Ok, you might be thinking not exactly fine arts but why can it not be? This is where I like to challenge artists and there thoughts on what is to be fine arts or not?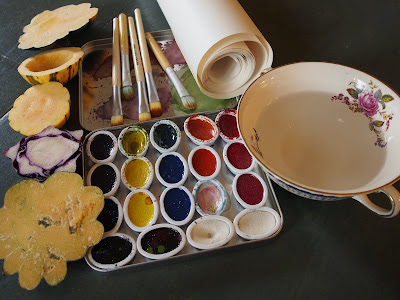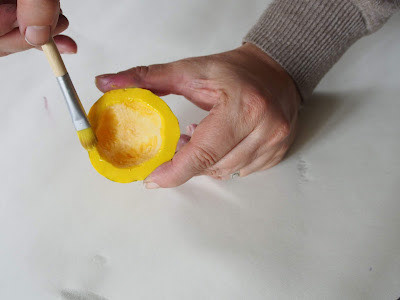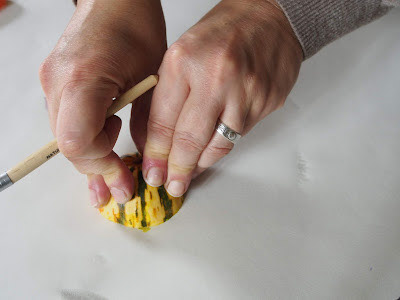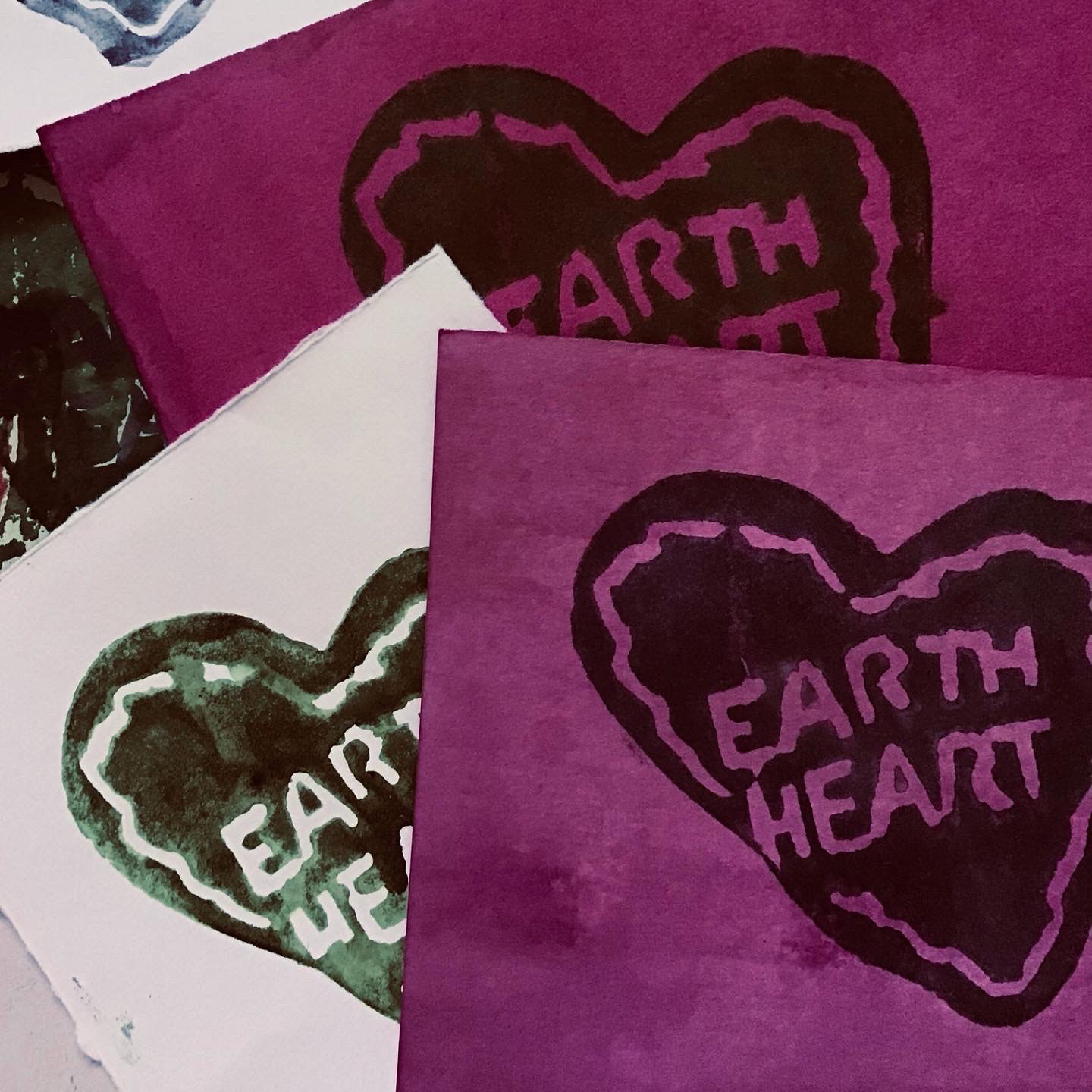 Using organic materials to make art is a great way to be sure that when you are done there is no offset garbage created, except used up vegetables that can be composted after being rinsed. This is why when I print with my vegetable ends, bits  I make sure I use non toxic paints like prang's soy base watercolors or even better homemade inks, this way no harm done. I also never use vegetables for art making unless I know I am going to eat most of it afterwards. So when I have beets, I save the peels and ends freeze them and when I have enough or I need to make a dye batch I use these peels and then I toss the plant materials into the compost. I will never just use the veggie straight up, no food wasting in my house!

HAPPY VEGGIE PRINTING!
I have been using the same sketch book for 8years. Filled up every inch possible. After trying to take notes during risograph workshop, I ended up writing down things a piece paper. I think it is the first time since art school since I have filled an entire sketch book! But now what? I am on a buy nothing regime! No more art supply shopping for me since almost a year now. I have challenged myself to this and taking it seriously so far so good. But I really need a sketchbook! I started to look around in my studio, in my house to see where could I find paper to make a sketchbook? I realized then that I don't have much paper left around my house to do something like this. I used to do art on my favorite paper, Stonehenge. I love that paper. So I brained stormed and thought of all those etchings and dry points and linocuts I did back in art school. I love printmaking, but I am not a printmaker. These prints are in a box, in a closet, in the dark. I though good paper, I can use the back as my sketchbook paper and there is a repurpose to these otherwise forgotten prints! This sketchbook is 100% made of repurpose/recycled materials. Right down to the hinges which were hand glued on by one with home made glue. I am very happy with the results. I have done some bookbinding before, but never the copic stich. In this challenge, I will share with you the steps I took to realize this idea from the paper prep to the glue recipe.
Simple step gathering all materials needed. Then chose my sketchbook size and cut down all papers to the chosen size. I like frayed edges, so I used only a ruler and ripping method to cut my papers. My hinges, are my favorite part of the sketchbook. Colorful random pieces of papers that were collected over the years of trimming down papers and hand dying them with various dye baths. Made sure that these hinges were the right size and folded down the middle by scoring method.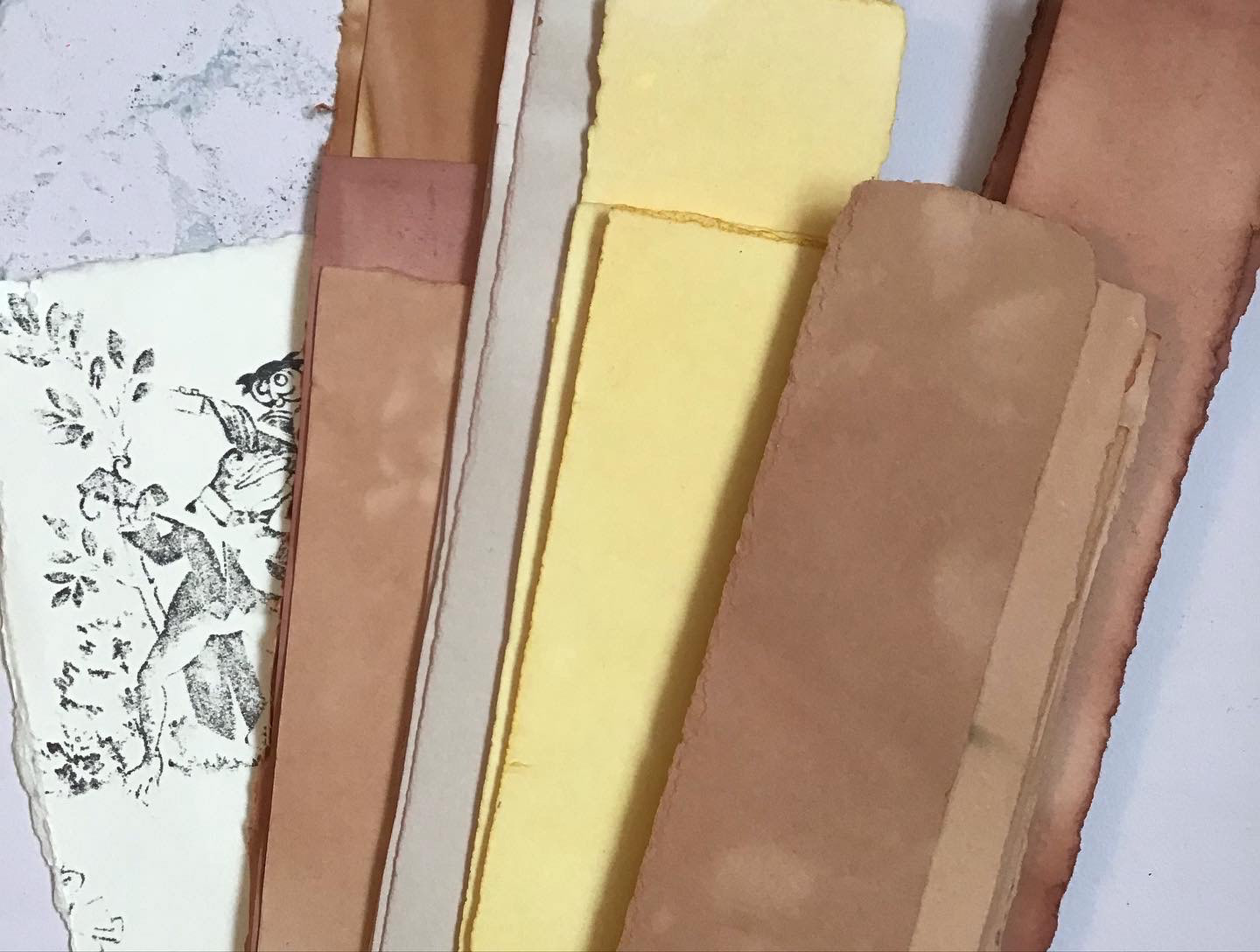 I am new at making my own glues. You would think it is simple to chose but I think not. There are so many recipes to chose from. Rice, whole wheat, white flower, etc... I only tried two recipes and the first one was a failure! Happy that I can compost it because otherwise it would of felt like a waste of materials. The recipe I am sharing with you, I have had for over a month and it is still good as if I just made it. This recipe is called a library paste. And let me tell you this, it binds vary well, dries on clear and smells like cookies when you use it! I never liked the smell of artificial/chemical glues it irritates me and gives me instant migraines. But this glue is the opposite of this, it is enjoyable. But do not eat it, there is some alum in there and essential oil for preservatives! Even if it is natural we still need to stay safe.
Making books as always been something I do in my practice. I love books. One of the reasons I became an artist is because of a series of books I saw as a child. I wish I could remember the titles. They were small horizontal rectangular picture books, no words, just images of painting depicting people by the seaside set in Victorian times. For this sketchbook I chose a copic stich style. This let's me open the book flat making it easier to use when sketching writing and gluing. I followed a wonderful YouTube video that you can find here.
 https://www.youtube.com/watch?v=S2FRKbQI2kY&list=PLpKVHhjWeQ6_L5pGuoa87p8OWkXtTJKKi
Making inks in itself is an art. It takes time, patience, practice and a love for experimenting. I have been making simple dye baths with kitchen items for years. It was a way for me to be creative when becoming a mom. I was already spending so much time in the kitchen making food. I found myself not having a lot of time to sit down and be an artist like before that I started wondering about my food scraps. And I was also questioning my art supplies and there safety. This is where it all started for me becoming sustainable and non toxic. This fruit is a great source of vitamin C and is a beautiful fruit. At my house we call it the royal fruit, because of it's ruby like color and seed shape. It is a symbol of fertility and coming of Spring. I have used it in my own photography as such a symbol.